Otherworldly
Buy this: Redbubble / Society6
Otherworldly has gotten more attention than many of my pieces, and probably has had the most prints made of it. I think it's because there's a recognizable human figure here, and also because she's in a contemplative pose that might naturally draw a viewer in.
In fact, maybe when you're contemplating this picture, you'll make a similar motion with your hand on your chin as she is in the picture you're contemplating. Life imitates art imitates life.
One little quirk I put in this piece that I think subconsciously influences the quality is the difference in background levels — lower on the left side, higher on the right. It's somewhat Mona Lisa-esque, at least as a little in-joke to myself and myself only.
The colors suggest a few things – amber, especially when you look at the details close up, immediately springs to mind. Or an old scroll, torn and weathered, with an ancient impression of a long-gone scholar. It could also be an artistic expression of the atmosphere on whatever "other world" this figure is standing on. In fact, the colors and gas currents could easily line up with the terrain of my favorite planet, not that she could last there for very long.
I hope you like this "Mona Lisa Thinker" piece as much as I do. Here are the full resolution details:
The real life reference subject of this piece got a chance to recreate the pose while holding up the physical canvas print. How nice is that! You can also spot a canvas print of Contort laying on the floor.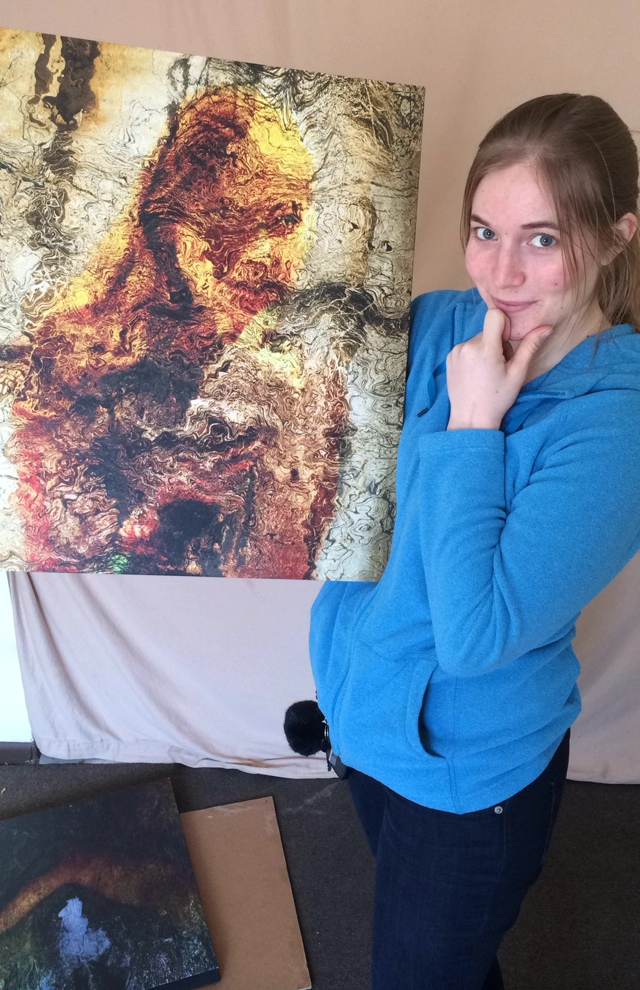 Buy this: Redbubble / Society6
Thank you.